Auditions
AWAY

PRODUCTION DATES: 10 to 13 MARCH 2021
Auditions: Monday 7 Dec or Wednesday 9 Dec 2020
Callbacks: Sunday 13 Dec 2020
First Reading: 16 Dec 2020
Rehearsals commence: 6 January 2021
Production week: 7 March 2021
Audition registrations are NOW OPEN for actors aged 18 to 25 years for The Midnite Youth Theatre Company production of
AUDITION INFORMATION
Auditions will be conducted in pairs and groups and will involve a cold read of excerpts from the script. The audition will run for approximately 90 minutes.
AUDITION TIMES
Monday 7 December 7pm
OR
Wednesday 9 December 7pm
AUDITION VENUE
Drama Centre, Christ Church Grammar School
AUDITION REQUIREMENTS
• Auditionees should be 18 to 25 years in 2021.
• Auditionees should arrive 10-15 minutes prior to their audition time to register and complete audition forms
• Auditionees will be asked to indicate any dates / times they will be unavailable during the rehearsal period
• Auditionees should bring a current photo / headshot and copy of their performance resume to their audition
• It would be advantageous for auditionees to familiarise themselves with the play and the character(s) they are interested in auditioning for
To register please contact midnite@ccgs.wa.edu.au with
Name
Age
Preferred audition date
Contact number
CHARACTER LIST
Tom
15, son of Harry and Vic. Tom knows he is dying of leukaemia, despite the fact that his parents have not told him so. Tom develops an interest in Meg. Tom has a strong passion for theatre.
Meg
15 Daughter of Jim and Gwen. Meg struggles to find some agency in a life that is rigidly overseen by her mother. She develops a friendship with Tom.
Vic
Late 30s Mother of Tom. Vic knows that her son is dying, but chooses not to tell him so that she and her family can enjoy one final holiday together.
Harry
Late 30s Father of Tom. Nostalgic and kind, Harry wishes to make Tom's final months meaningful.
Jim
Late 30s The reserved father of Meg. Jim often finds it difficult to get a word in around his wife, but ultimately just wants the best for his daughter.
Gwen
Late 30s The controlling and often overbearing mother of Meg. She struggles to let her daughter have freedom and independence.
Roy
40s Headmaster of Tom and Meg's school, husband of Coral. He struggles to maintain a relationship with his wife who is nearly catatonic after losing their son in the Vietnam War.
Coral
40s Wife of Roy. Coral is incredibly scarred after her son was killed in the Vietnam War. This puts incredible strain on her relationship with her husband. She has a 'movie star' quality about her.
Rick
20s A young, newly married man who shares some moments with Coral.
Miss LaTrobe
A teacher
MC
Any gender/age An MC at an amateur talent show.
Ensemble: Campers/ Fairies

Auditions
Wind in the Willows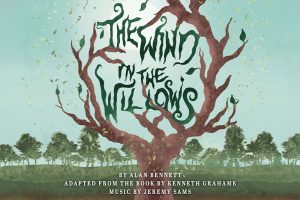 by Alan Bennett
Year 7 and 8 production in 2021
Auditions: 3 to 7 February 2021
If you have any questions email midnite@ccgs.wa.edu.au or find us Facebook, tweet us on Twitter or Snap us on Instagram